Our History
The foundation of our company, Hico Multifin Products Pvt Ltd was laid by Late Shri Nathmal Agarwal and his son Shri R K Agarwal in the year 1992. Since then, we have come a long and glorious way by striving in this cut-throat competitive domain. The success we enjoy today has not been achieved overnight; in fact, it has taken years of hard work to earn a reputed position as a manufacturer and wholesaler. As we follow all our business operations in the best way, we have set up a strong customer base across the country involving both public and private sector. Currently, everything is well-managed by our mentors, Shri R K Agarwal, Shri Prateek Agarwal and Shri Ramesh Kumar Agarwal.
Innovation and continuous improvement are the two factors for which our people remain thirsty. To calm their thirst, they strive day and night and bring forth a range of Carbon Hex Steel Bar, Copper Bearing Sheet, Chequered Sheet, Sailcor Steel Sheet, MS Seamless Pipe and more of matchless quality. For this reason, all the potential customers of this business line, choose us over our counterparts.
Reasons To Choose Us
Our efficient and enthusiastic work force, both at our office and workshop helps us deliver our customers' orders at their doorsteps within the committed time frame. Backed by our state-of-the-art manufacturing unit, we also customize our GI Joist, Mild Steel Wire, Copper Bearing Sheet, etc., as per the requirements of our customers. However, no addition is made to the price tags. The incorporation of modern manufacturing techniques ensure all the orders including the bulk and urgent ones are completed on time. Needless to say, that it is because of all these reasons that we have established a strong foothold in the market and made our place forever in the hearts of our customers.
Infrastructural Base
Modern infrastructure has become the necessity of every business entity. For this reason, we have set up spacious and state-of-the-art infrastructural base at our company. We keep investing in our infrastructure to keep it updated as per the prevailing market trends and technologies. Following are the departments that when combined help us perform our business activities with much less hassle-
Manufacturing unit
Research and development department
Sales department
Warehousing facility
Quality checking laboratory, etc.
"We are accepting minimum order quantity 5000 Kg."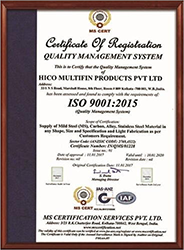 Read More